Apple Pay offers both convenience and safety when paying for goods or services. And it works with major banking and fin-tech companies, including Chime. If you're a Chime user, you need to add your card to Apple Pay to start paying.
So how do you add Chime to Apple Pay? You need to add Chime to the Apple Wallet app first by providing the card details. After verifying the information with the bank, you'd be able to pay with Chime via Apple Pay.
Alternatively, you can link your Chime bank account to Apple Pay using the routing number. Learn about the entire process in subsequent sections.
How to Add Chime to Apple Pay – Does Chime support Apple Pay?
Chime aims to provide the best financial products to its customers. With the rapid adoption of Apple Pay, it was only a matter of time before Chime opened its doors to Apple.
Chime has been supporting Apple Pay since 2016. It allowed Apple Pay users to add the Chime debit card and fund their wallets. Users could also transfer money from Apple Wallet to a Chime account.
The fintech company has been supporting Apple payment services since then. With growing popularity, the two companies may develop further partnerships.
How to Add a Chime Card to Apple Pay?
To start using Chime on your Apple Pay, you need to add the card first. But you'd have to add the card on the Apple Wallet and not on Apple Pay.
Here are the steps you need to follow to add a Chime card:
Open the Apple Wallet app on your iPhone or iPad
Click on the '+' icon at the top-right corner of the screen
Tap on the 'Debit or Credit Card' option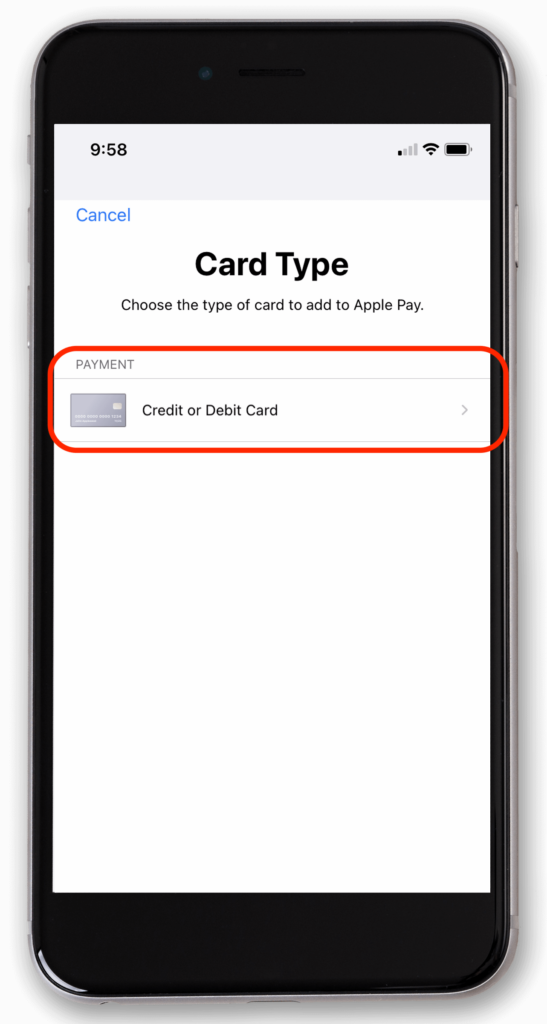 Hold your device over the Chime card and let it read the numbers. Or else, you can manually enter the card number
Click on next and enter other details like the expiration date and security code (3-digit CVV)
Agree to the terms and conditions
After verification, Apple will add the card to the Wallet. For Chime cards, this should be automatic since Apple supports Chime cards. But if you face issues, contact Chime and seek assistance.
Please note that the recently-added Chime card will not be your default card if you've added multiple cards. This means you'll be paying with the other card for transactions done with Touch ID or Face ID.
To make Chime your default card, open the Settings app and go to Wallet & Apple Pay. Scroll down to the 'Transaction Defaults' section and click on Default Card. Select Chime from the list.
How to Add Chime to Apple Pay without a Card?
It takes around 5 to 10 business days for the Chime Visa Debit card to arrive. It may take even longer, depending on the circumstances. So does that mean you have to wait that long to start using Chime on Apple pay?
No, you can instantly add Chime to your Apple Wallet without a card. Link your Chime bank account and start paying with Apple Pay Cash.
You need to provide the account number and routing number in the Apple Wallet app inside Apple Pay Cash. After authentication, you'd be able to transfer money between the two services.
How to add a Chime Card to pay with Apple Watch?
Apple Watch is even more convenient for making in-store payments. Chime allows you to add its cards to Apple Watch and make payments.
The process of making payments on your Apple Watch remains the same. You need to add your Chime card to Apple Pay, link it to Apple Watch, and start paying.
To add a Chime debit card to Apple Watch, here are the steps to follow:
Take out your Apple Watch and go to Wallet
Find the Add Card option
Tap on Debit and Credit Card and then on Continue
Provide the details and save
You should have the Chime bank card listed on the available cards. If not, it requires more verification from the bank. So contact Chime and seek assistance.
To start paying with Apple Watch, double-press the side button and keep the Watch steady. You don't have to look into the Watch to authorize payments. The fact that you're wearing already authorizes the payments.
Conclusion
Due to their customer-centric business model, Apple Pay and Chime are an excellent fit for each other. In the future, perhaps there will be more features on offer.
If you haven't used the two services together, consider adding Chime to your Apple Pay. Follow the steps mentioned above and start making payments.
FAQs
Does Chime SpotMe work with Apple Pay?
Yes, SpotMe will work with Apple Pay. You'd be able to pay through Apple Pay as long as you haven't crossed the limit. It starts at $20 and can go as high as $200. After you hit the limit, Chime will decline the transaction. 

That being said, Chime SpotMe does work with Apple Pay across all the devices.

Is there a Chime Apple Pay limit?
Apple Pay doesn't have any limit for in-store payments, unlike many contactless card payments. As far as Chime goes, it has a limit of $2,500 per day. So if you're paying through Chime on Apple Pay, your daily limit will be capped at $2,500 per day.
Why did Chime decline the Apple Pay transaction?
Chime may decline the Apple Pay transaction if you exceed the daily limit. If you're on SpotMe, you must not exceed the limit as well. Incorrect card details or incorrect PIN are other reasons why you may face such issues. 

The best option for you if Chime declines the transaction is to contact the company and seek assistance.

Can I remove my Chime card from Apple Pay?
Yes, Apple allows you to remove Chime or any other card from Apple Pay at any time. Navigate to System Preferences > Wallet & Apple Pay to remove the Chime card. Find the Chime card you want to remove and click on the Remove button.