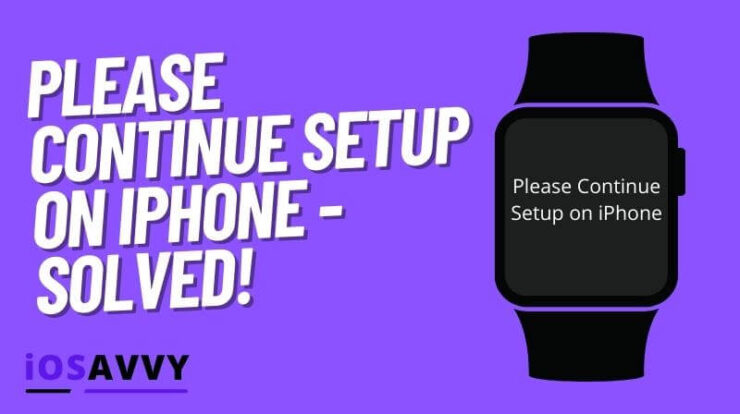 Have you tried lately to set up your new apple watch with excitement and suddenly the process stopped and you see a message on screen saying " please continue setup on iPhone " – what? What is this? What am I supposed to do now?! That's you, probably.
In this article we will explain what the continue setup on iPhone means, how to actually do it, and setup your apple watch from start to finish.
How to solve iPhone continue setup on device message
So this message can show up in two events:
When you first get a new apple watch and try to set it up
When you update your current apple watch and sometimes the message shows up as well
Let's see how to solve this thing in these two events. Starting with the first time setup.
First time setting up apple watch
When you first get an apple watch, you need to set it up and pair it with your iPhone. For most users trying to do this for the first time on their watch, they are surprised they need to go to their iPhone to complete the setup.
Well, let's take you through a step by step guide on how to set up your new apple watch and solve the please continue on iPhone message.
Turn on your apple watch by pressing and holding the side button
Put on the watch and place it close to your iPhone
Wait for the please continue setup on iPhone message ( sometimes the message reads " Use your iPhone to set up this apple watch "

If it's your own watch tap setup for myself – otherwise tap setup for a family member
Place your watch over the animation on the iPhone and wait for it to pair. If you can't use the camera tap pair apple watch manually and follow the instructions

Choose to setup a new apple watch or restore from backup if not new
Follow all the setup steps and wait for the watch and iPhone to synch
When you update current apple watch
The second scenario where you update the watch software and sometimes the message to continue on iPhone shows up, here's what to do:
Press and hold dial button until option to reset show up
Touch and hold reset on the screen
After it will do a full reset you should be back at the pairing screen.
There you have it, that's all you need to know about how to continue setup after the message asking you to complete setup on iPhone.
Frequently Asked Questions
Here are some of the most popular questions people had relating to this topic
Can I skip an update on my apple watch
YES. To do this you will need to disable the automatic updates option. On your apple watch, go to Settings, App store and turn ON or OFF automatic updates. You can also open the watch app on your iPhone and scroll down to App Store and turn ON or OFF automatic updates.
Why is it taking forever for my apple watch to setup
The simple answer is that your watch may need to update its watchOS. And this can take from a few minutes to an hour. So if you setup your watch and it needs an update, it will take more time.
Can I update my watch without using my iPhone
If you have an apple watch running with watchOS 6 or newer, you can update the watch without using your iPhone. Just make sure your watch is connected to a WiFi.
How long should it take to setup apple watch
The entire process might take up to 30 minutes. This includes pairing the devices, Bluetooth pairing, app downloads and setup for the device.
Conclusion
We hope this guide helped you solve the issue with the watch asking you to continue setup on iPhone and that you are using your watch right now and happy about it.